Atlanta Braves Tickets
2023 Atlanta Braves tickets, and game schedule. View home games at Truist Park in Atlanta and away game dates by day, week, opponent, day games, and night games. View the upcoming schedule and get great Atlanta Braves ticket deals.
What you will find on the Atlanta Braves schedule:
Atlanta Braves home game dates
Atlanta Braves away game dates
Atlanta Braves Opponents
Upcoming Atlanta Braves MLB games
Atlanta Braves Seating Chart at Truist Park
Atlanta Braves night games
Find and buy Atlanta Braves MLB tickets
Buy Atlanta Braves Tickets | Braves 2023 MLB Schedule
About the Atlanta Braves MLB Baseball Team
The Atlanta Braves are an American Professional Baseball team based in the Atlanta Metropolitan area. They play their home games at Truist Park, located in The Battery, an entertainment district filled with restaurants, bars, hotels, and retail stores. When fans cannot make it to watch the Braves play live games, a popular option is to tune in on the Atlanta Braves Radio Network. The Braves originated in the city of Boston in 1871 and are one of the original members in Major League Baseball. In fact, the team states that it is the oldest continuously operating sports franchise in America, and is the only team to participate in every season since MLD came into existence.
The Braves play in the National League East division of Major League Baseball. They are winners of 4 World Series titles, which came in 1914, 1957, 1995, and 1921. The 1995 World Series championship came at a time when the Braves were flat out dominating Baseball by winning division titles for 14 years straight from 1991 to 2005. The Atlanta Braves' current owners, Liberty Media Corporation, has made a huge commitment to the Fans by putting a winning team on the field each year and recently winning the 2021 World Series over the Houston Astros.
Atlanta Braves Schedule Information
Division and Rivals
How Many Games do the Atlanta Braves Play in a Season?
The Atlanta Braves will play 162 regular-season games a year on the MLB schedule. We will break down the Atlanta Braves season opponents, game dates, and game times.
How Many Home Games do the Atlanta Braves Play at Truist Park in the Season?
The Atlanta Braves will play 81 of their 162 regular-season home games at Truist Park.
What Time do the Atlanta Braves Play?
The start time for the Atlanta Braves Baseball games all depend on the day of the week and the city they are playing in. Home games for the Atlanta Braves at Truist Park usually around 7:00 PM for night games. You can check the Atlanta Braves schedule above for each and every upcoming Nets game start time.
What Channel do the Atlanta Braves play on?
Fox Sports South will broadcast a majority of the Atlanta Braves games on TV for the upcoming season.
How to Find and Buy Tickets to see an Atlanta Braves Game
1. View the Atlanta Braves Schedule
You can view the Atlanta Braves schedule above where you will find game dates, opponents, and game times
2. Browse for Atlanta Braves Games
Before you can purchase Atlanta Braves Tickets, you will have to find a game or an opponent that you would like to see. On each upcoming game listing, you will find the game date, game time, opponent, and venue where the Atlanta Braves event will take place. All Atlanta Braves home games in the regular season will be at Truist Park.
3. Shop for Atlanta Braves Tickets
After you choose the Atlanta Braves game that you would like to attend, you will be taken to a ticket listing page where you can see all the Atlanta Braves tickets that are available and for sale in our marketplace for that event. There are 2 ways to browse and shop for Atlanta Braves tickets
Scroll the ticket listings from top to bottom
Shop for Atlanta Braves tickets alongside our interactive seating charts
The first way is to shop for tickets by just scrolling the ticket listings from top to bottom. Ticket prices are listed from low to high. You can also use the filter to filter out ticket prices and choose your own price range, and quantity of tickets.
The second way to shop for Atlanta Braves tickets in our ticket listings is to shop alongside our Atlanta Braves seating charts. On the ticket listing page, a seating chart for that event will appear. You can click on any section of the stadium map and all tickets that are for sale in that section will appear on the ticket listings. To choose another section of the ballpark, just choose that section, and ticket listings will appear for that section with row numbers and ticket prices.
4. Buy your Atlanta Braves Tickets
Once you have found the Atlanta Braves tickets that you would like to buy, you will be taken to our checkout screen to complete your purchase. You will see your payment options, which include all major credit cards or Paypal. Once you have submitted your order, you will receive a follow-up email that will give you instructions on how to retrieve your Atlanta Braves Tickets that you have just purchased.
Tips about attending a Atlanta Braves Baseball Game
If you are making your way to Truist Park in Atlanta, Ga. to see a Atlanta Braves baseball game, there are some things that you should know to prepare yourself for your visit.
Arrive early: For Atlanta Braves Baseball games,Truist Park will open its gates to ticket holders 2 hours before game time. Arrive to the game early to watch pre-game warm-ups and get concessions.
Hang at the Battery: The Battery Atlanta is located adjacent to Truist Park and is filled with Bars and Restaurants that Braves fans love to hang out at before and after Atlanta Braves Games. Crowds seem to gather early at restaurants at the Battery Atlanta on game days so be sure to check if a reservation is needed.
Food and Drink inside Truist Park: The Battery is not the only place to get great food and drink. Truist Park is filled with great restaurants and even Craft Beer selections. Great local food from places like Nathans Hot Dogs and others make eating a wonderful experience at a Nets game.
Do not try to get up during a play: During a Atlanta Braves game at the Truist Park, If you need to go to the restroom, or you are getting up for concessions, wait until play has stopped. Nothing irritates other Atlanta Braves fans more than having to get up for someone trying to pass by their seats when play is in action.
Atlanta Braves Team Stores: Visit the Official Atlanta Braves team stores inside Truist Park, where you can find all the Braves Apparel and merchandise that you need.
Share your Atlanta Braves game experience: Share Pics and videos on our Instagram page. #closeseats
Atlanta Braves Seating Chart at Truist Park
Truist Park Seating Chart - Home of the Atlanta Braves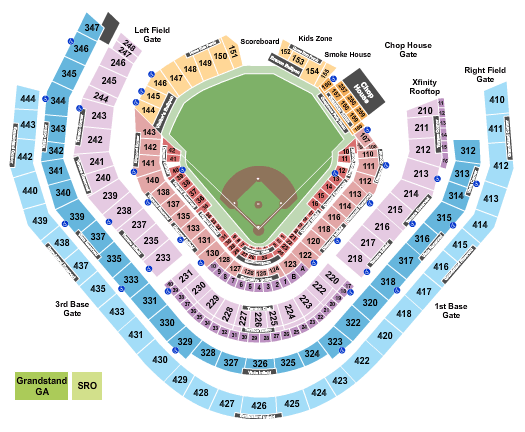 Atlanta Braves Ticket Prices at CloseSeats.com
How much are Atlanta Braves Tickets?
Atlanta Braves ticket prices start at only $7.00 at CloseSeats.com. Average Atlanta Braves ticket price is $71.00 for game at Truist Park in Atlanta. Ticket prices will vary from game to game, depending on the Atlanta Braves opponent and the location of your seats, among other things.
| | |
| --- | --- |
| Location of Seats/Tickets | Price |
| Grandstand Level Seating | Start at $16.00 |
| Vista Level Seating | Start at $18.00 |
| Home Run Porch Level | start at $26.00 |
| Terrace Seating Level | start at $34.00 |
| Diamond Seating Level | Start at $38.00 |
| Dugout Seating Level | Start at $70.00 |
| Chophouse Seating Level | Start at $120.00 |
Atlanta Braves Ticket FAQS
Where can you buy Atlanta Braves tickets?
Tickets to see the Atlanta Braves are available to purchase right here on CloseSeats.com. Feel free to browse our Atlanta Braves game schedule above and shop for the best tickets and seats. In addition, tickets may still be available at the Atlanta Braves box office.
Are Atlanta Braves Tickets 100% Guaranteed
In the event that the Atlanta Braves cancel a game and do not reschedule any game that you have purchased tickets for on CloseSeats.com, we will refund your money back 100% of the price you paid for your tickets.
When do Atlanta Braves tickets go on sale?
Atlanta Braves tickets are already on sale and ticket listings can be found alongside the Atlanta Braves schedule above
When does the Atlanta Braves schedule come out?
The Atlanta Braves schedule has been released. The Braves will start the season on Thursday, March 31st vs the Miami Marlins at loanDepot park in Miami, FL. The regular season will conclude on Sunday, October 2nd with a home game at Truist Park vs the New York Mets
When is Atlanta Braves Opening Day at Truist Park?
Atlanta Braves Opening Day at Truist Park is on Thursday, April 7th . The Braves will play the Cincinnati Reds in their home opener.
Where can I buy cheap Atlanta Braves tickets for the season?
Cheap Atlanta Braves tickets can be found at the top of our ticket listings for each game that the Braves will play. We list our tickets from lowest and cheapest prices to highest and most expensive prices. Many times, sellers list Atlanta Braves tickets at a discount of more than half price the face value of the ticket.
Are Atlanta Braves tickets sold out?
Atlanta Braves Tickets are almost always available on our marketplace. It is not uncommon to have tickets available for purchase up to the last minute before game time
Where do the Atlanta Braves play their home games?
The Atlanta Braves will play their home games at Truist Park, located at located at 1100 Circle 75 Pkwy Atlanta, GA 30339
Do I Need to Print my Atlanta Braves Tickets?
No. The Atlanta Braves, along with all MLB teams, will only allow mobile ticket gate entry to their games.
Atlanta Braves Opponents and Matchups
Discover upcoming Events in Atlanta, GA
Concerts in Atlanta | Atlanta Concert Tickets