Atlanta Falcons Tickets
Buy Atlanta Falcons Tickets | 2022 - 2023 NFL Schedule
About the Atlanta Falcons Football Team
The Atlanta Falcons are a National Football League (NFL) team that plays its home games at Mercedes Benz Stadium in Atlanta, GA.
The Falcons play in the South division of the National Football Conference (NFC). Other teams in their division include the Tampa Bay Buccaneers, Carolina Panthers, and New Orleans Saints. Since 1955, when the Falcons joined the league, they have only made two Super Bowl Appearances, losing in both of them. The first Super Bowl appearance was in 1998 in Super Bowl XXXIII, when they lost to the Denver Broncos by a score of 34-19. The Falcons second Super Bowl Appearance was the one that all Atlanta Falcons fans feel that they should have won. The team faced Tom Brady and the New England Patriots in Super Bowl LI. The Falcons led the game at one point by a score of 28-3, only to see the Patriots come back and take the game into overtime. The Patriots scored a touchdown in overtime to defeat the Falcons 34-28.
Since their last Super Bowl Appearance, the Falcons are a whole new team. They no longer have Matt Ryan as their quarterback or Dan Quinn as their Head coach. The Team is looking to rebuild at what seems like a perfect time because the other teams in the division are doing the same.
Atlanta Falcons Ticket Information
How to Buy Atlanta Falcons Tickets
Browse for Atlanta Falcons tickets on the schedule above for the Falcons game that you would like to attend
Choose the tickets for the Atlanta Falcons game from our ticket inventory
proceed to checkout
You will get an email on how to download your Atlanta Falcons game tickets or receive an estimated date of delivery.
Atlanta Falcons Ticket FAQS
Where do the Atlanta Falcons play?
The Atlanta Falcons play their home games at Mercedes Benz Stadium, located at Martin Luther King Jr Dr. SW & Northside Dr. NW Atlanta, GA 30313
When do Atlanta Falcons Tickets go on sale?
Atlanta Falcons tickets are on sale now and can be found in the Atlanta Falcons ticket listings and Schedule above. Single-game tickets are available for all road games and home games at Mercedes Benz Stadium in Atlanta, Georgia.
Atlanta Falcons Ticket Packages
When you choose a game on the Atlanta Falcons Schedule above, you will also see a section marked "Ticket Packages". Atlanta Falcons ticket packages give you the opportunity to save money by bundling two or more experiences at an Atlanta Falcons game. Not all falcons ticket packages are available for each game so please read the notes for each package that the seller of the Falcons tickets has put down. Here is an example of the ticket packages that you will see for sale.
Lower Level Ticket Package Includes:
Lower Level Atlanta Falcons game ticket in end zone or corner sections 115-123 or 133-105 (orders of three or more may be split)
Pregame tailgate party featuring unlimited food, premium open bar (beer, liquor and soft drinks), tailgate games, live DJ, TVs, tents, giveaways and more next to Mercedes Benz stadium
$25 Official NFL Shop merchandise credit
100% Worry-Free Guarantee
Visiting Team Fan Ticket Package Includes:
Visiting Team Sideline Package includes: Lower Level game ticket at Mercedes Benz Stadium in sideline sections 124-132 (orders of three or more may be split)
Pregame tailgate party featuring unlimited food, premium open bar (beer, liquor and soft drinks), tailgate games, live DJ, TVs, tents, giveaways and more next to the Mercedes Benz stadium
Officially licensed Visiting Team gift box (1 per pair)
100% Worry-Free Guarantee
Falcons Premium Ticket Package includes:
Lower Club Atlanta Falcons game ticket with VIP amenities in sections C108-C112 featuring access to climate-controlled club lounges with TVs, upscale food/beverage options, full service bars and more (orders of three or more may be split)
Atlanta Falcons Pregame tailgate party featuring unlimited food, premium open bar (beer, liquor and soft drinks), tailgate games, live DJ, TVs, tents, giveaways and more next to Mercedes Benz stadium
Officially licensed Atlanta Falcons gift box (1 per pair)
100% Worry-Free Guarantee
Falcons Club Level Fan Ticket Package includes:
Atlanta Falcons Club level game ticket with VIP amenities in sections C210-C212 or C236-C238 featuring access to climate-controlled club lounges with TVs, upscale food/beverage options, full service bars and more (orders of three or more may be split)
Falcons Pregame tailgate party featuring unlimited food, premium open bar (beer, liquor and soft drinks), tailgate games, live DJ, TVs, tents, giveaways and more next to Mercedes Benz stadium
$50 Official NFL Shop merchandise credit
100% Worry-Free Guarantee
Falcons Midfield Club VIP Ticket Package includes:
Atlanta Falcons Midfield Club game ticket with VIP amenities in AMG Lounge section C110 or Suntrust Club section C128 featuring all-inclusive gourmet food and open bar, private dining space with views of players tunnels, wide padded seats, access to exclusive club lounges with private full-service bars, TVs and more (orders of three or more may be split)
Falcons Pregame tailgate party featuring unlimited food, premium open bar (beer, liquor and soft drinks), tailgate games, live DJ, TVs, tents, giveaways and more next to the Mercedes Benz Stadium
$50 Official NFL Shop merchandise credit
100% Worry-Free Guarantee
Mercedes Benz Stadium Seating Chart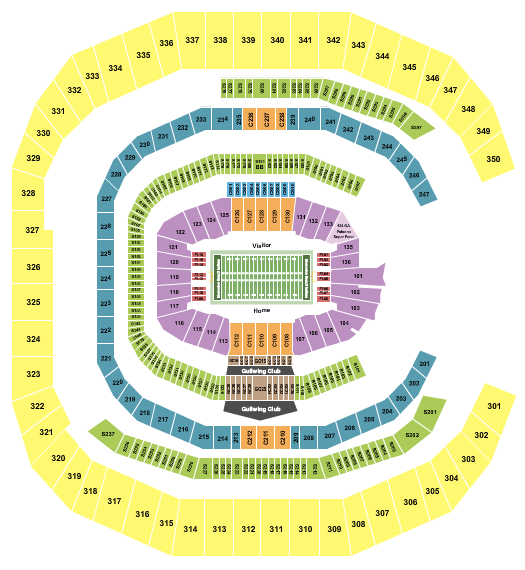 Mercedes Benz Stadium Seating Chart - Home of the Atlanta Falcons
Similar Pages
Discover upcoming Events in Atlanta, GA
Concerts in Atlanta | Atlanta Concert Tickets