About Usher "My Way" Residency in Las Vegas
Usher Raymond IV, who is better known by his fans as just "Usher" is an American R&B singer that has a Las Vegas, Nevada Residency titled "My Way" at Dolby Live at Park MGM in Las Vegas, NV. Usher joins some Big names in the entertainment industry that will be headliners with a residency at the Park MGM hotel-casino. In addition to Usher, Bruno Mars, Aerosmith, Maroon 5, and the Jonas Brothers all have a Las Vegas residency at Dolby Live at Park MGM.
Usher announced that he will return to Las Vegas in 2023 at the Park MGM with concert tour dates beginning on Friday, March 3rd, 2023. The R&B superstar will then have live performances on Wednesdays, Fridays, and Saturdays at 9:00 PM for approximately 2 weeks per month in March, April, June, and July. There will be some weeks during the residency when Usher does not have a Wednesday show scheduled, therefore only performing on Friday and Saturday of those weeks.
Fans can look forward to a great concert that has received wonderful reviews. Usher performs a majority of his famous songs while on the Las Vegas stage. Hit songs like "Yeah!", "Without You", and "My Boo" are all included in past Usher Las Vegas Setlists. Usher Las Vegas tickets are on sale now in the ticket listings above where you can also view concert dates and ticket prices.
Usher Las Vegas Ticket Information
How to Buy Usher Las Vegas Tickets
Browse for Usher Las Vegas tickets on the concert schedule above for the Usher concert that you would like to attend
Choose the tickets for the Usher Las Vegas concert from our ticket inventory
proceed to checkout
You will get an email on how to download your Usher Las Vegas tickets or receive an estimated date of delivery.
Usher Las Vegas Ticket FAQS
Where is Usher Performing in Las Vegas?
Usher's current residency in Las Vegas is at the Park MGM hotel and casino inside the Dolby Live theater at 3770 S. Las Vegas Blvd. Las Vegas, NV 89109.
What time does the Usher Las Vegas concert start?
All of Usher's Las Vegas concerts and performances at the Dolby Live Theater at Park MGM are shceduled to start at 9:00 PM. It is advised to arrive at least 45 minutes early to give yourself some time to get refreshments and find your seats.
How long is Usher's Las Vegas concert?
Usher's concerts in Las vegas is Usually around 90 minutes. It has been reported by fans that have attended previous Usher concerts in Las Vegas that Usher generally does a 90 mimute set.
Ticket Packages, Premium Seating
When you choose a concert on the Usher Las Vegas concert Schedule above, you will also see a section marked "Ticket Packages". Usher Las Vegas ticket packages give you the opportunity to save money by bundling two or more experiences at an Usher concert at the Park MGM in Las Vegas. Not all Usher ticket packages are available for each concert so please read the notes for each package that the seller of the Usher Las Vegas tickets has put down. Here is an example of the ticket packages that you will see for sale.
Usher Gold Fan Ticket Package Includes:
Reserved Lower Orchestra ticket at Usher Las Vegas concert in sections 201-205 (orders of three or more may be split)
Specially designed tour merchandise
Usher Gold Deluxe Ticket Package Includes:
Reserved Lower Orchestra ticket in sections 201-205 (orders of three or more may be split)
Private pre-show hospitality featuring food and drinks
Specially designed tour merchandise
Detailed Itinerary.
100% Worry-Free Guarantee
Usher Gold Limo Ticket Package Includes:
Reserved Lower Orchestra ticket in sections 201-205 (orders of three or more may be split)
Roundtrip limousine service (orders for a quantity of one are subject to an additional charge)
Private pre-show hospitality featuring food and drinks
Specially designed tour merchandise
Detailed Itinerary.
100% Worry-Free Guarantee
Usher Diamond Fan Ticket Package Includes:
Reserved Main Floor ticket in sections 101-103 (orders of three or more may be split)
Specially designed tour merchandise
100% Worry-Free Guarantee
Usher Diamond Deluxe Ticket Package Includes:
Reserved Main Floor ticket in sections 101-103 (orders of three or more may be split)
Private pre-show hospitality featuring food and drinks
Specially designed tour merchandise
Detailed Itinerary.
100% Worry-Free Guarantee
Usher Diamond Limo Ticket Package Includes:
Reserved Main Floor ticket in sections 101-103 (orders of three or more may be split)
Roundtrip limousine service (orders for a quantity of one are subject to an additional charge)
Private pre-show hospitality featuring food and drinks
Specially designed tour merchandise
Detailed Itinerary.
100% Worry-Free Guarantee
Dolby Live at Park MGM - Usher Concert Seating Chart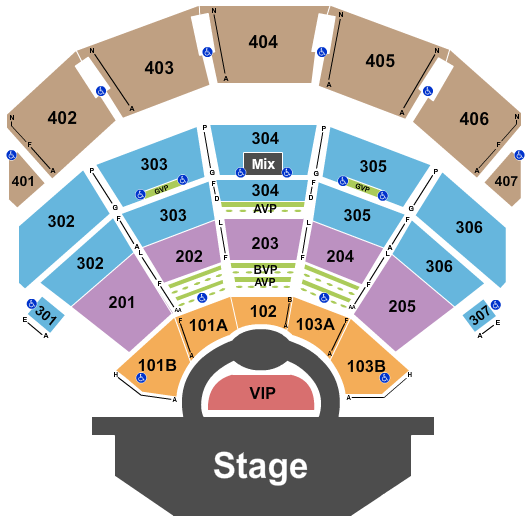 Usher Seating Chart at Dolby Live at Park MGM
Similar Las Vegas Events
Upcoming Concerts in Las Vegas | Buy Tickets
Sebastian Maniscalcoo Las Vegas Tickets
Jonas Brothers Las Vegas Tickets
Barry Manilow Las Vegas Tickets
Usher Tickets, Tour Dates Near You: