2021 Golden State Warriors schedule and tickets. View home games on the calendar at the Chase Center in San Francisco, CA. and away (road) game dates by day, week, an opponent, day games, night games. View the upcoming schedule and get great Warriors ticket deals.
73705955 © Eric Broder Van Dyke - Dreamstime.com
What you will find on the Golden State Warriors schedule:
Golden State Warriors home game dates
Golden State Warriors away game dates
Golden State Warriors opponents and game times
Upcoming Golden State Warriors NBA games on Calendar
Golden State Warriors day games
Golden State Warriors night games
Golden State Warriors weekday games
Golden State Warriors weekend games
Shop for Golden State Warriors NBA tickets
Chase Center Basketball Seating Chart - Home of the Golden State Warriors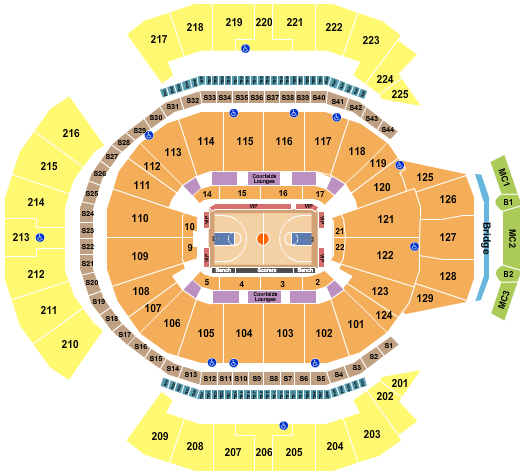 Upcoming Schedule and Tickets
On the Schedule below, you will discover upcoming Golden State Warriors games, starting with the next game at the top. Use the filters on the top right of the schedule and ticket listings to narrow down your search to opponents, months, home and away games.
About the Golden State Warriors Basketball Team
The Golden State Warriors are a National Basketball Association (NBA) team that plays its home games at the Chase Center in San Franciso, CA. The Warriors moved into the Chase Center at the beginning of the 2019-20 basketball season after previously playing at the Oracle Arena, which has since changed its name to the Oakland Arena. The move took the teams home from Oakland to San Francisco. Golden State finished the 2019-20 season with a 15-50 record and was 1 of 8 NBA teams that were not invited to Orlando to play in the NBA playoffs. Injuries to both Stephen Curry and Klay Thompson, along with the loss of Kevin Durant kept the team's on-court talent very low and was the main reason for the poor record. If there was any sort of a silver lining in all of this, it was because the Warriors finished with such a poor record, they were able to secure the number 2 spot in the 2020 NBA draft which they used to draft James Wiseman.
Playoff Appearances and NBA Championships
Including when they were called the Philadelphia Warriors, San Francisco Warriors and the now Golden State Warriors, the team has made the NBA playoffs a total of 35 times and have won 6 NBA Championships. The last time that they won an NBA Championship was in 2018 when they swept the Cleveland Cavaliers 4-0. It was their 2nd championship in as many years and their 3rd in 4 years.
73 Win Season
Perhaps one of their greatest accomplishments happened in a year when the Warriors did not win the NBA Championship. After winning the title in 2015, the team went into the 2015-16 season with hopes of a repeat. Golden State would dominate their schedule and break the Chicago Bull's single-season record for wins as they went 73-9. The great accomplishment would be short-lived though as the Cleveland Cavaliers defeated the Warriors 4-3 in the Finals.
About the Golden State Warriors Schedule
Division and Rivals:
The Golden State Warriors play in the Pacific division of the Western Conference of the NBA League. They compete against four other teams in their division:

How Many Games do the Golden State Warriors Play in a Season?
The Golden State Warriors play 82 regular-season games a year on schedule. We will break down the Golden State Warriors season opponents, game dates, and game times.

How Many Home Games do the Golden State Warriors Play at the Chase Center in San Francisco, CA?
The Golden State Warriors play 41 of their 82 regular-season games at the Chase Center in San Francisco, CA. on each year's regular-season schedule.
Game Times: What Time do the Golden State Warriors Play?
The start time for any Golden State Warriors Basketball game all depends on the day of the week and the city they are playing in. Home games for the Golden State Warriors at the Chase Center in San Francisco, CA. usually have a tip-off at around 7:00 PM for night games. You can check the Warriors schedule above for each and every upcoming game start time.
What Channel do the Golden State Warriors play on?
NBC Sports Bay Area will broadcast a majority of the Golden State Warriors games on TV for the upcoming season.
Going to a Golden State Warriors Basketball Game
If you are making your way to the Chase Center in San Francisco, CA. to see a Golden State Warriors Basketball game, there are some things that you should know to prepare yourself for your visit.
Arrive early: For Golden State Warriors Basketball games, the Chase Center opens its doors 90 to 120 minutes before game time to the general public. Get there early to find your seats, get concessions, and watch Warrior's pre-game Warm-ups.
Take the Chase Center Ferry Service: The Chase Center Ferry Service offers transportation across Sam Francisco Bay for Warriors home games.
Check Out Mission Bay and Dogpatch: If you are looking for places to eat and drink before or after a Warriors game, Mission Bay and Dogpatch offer up plenty of bars and restaurants and are very popular on game day.
Enjoy the high tech Scoreboard: The Chase Center and the Golden State Warriors have taken tech to a new level with their state of the art scoreboard. Along with video screens providing in-game entertainment, the scoreboard provides in-game live stats that you do not see in most NBA Arenas.
Warriors Shop on the Plaza in Thrive City: This 10,000 square foot team store has all of the Warriors apparel and merchandise that you can imagine. Worth a trip, even if you're just browsing.
Do not try to get up during a play: During a Golden State Warriors game at the Chase Center, If you need to go to the restroom, or you are getting up for concessions, wait until play has stopped. Nothing irritates other Golden State Warriors fans more than having to get up for someone trying to pass by their seats when play is in action.
Share your Golden State Warriors game experience: Share your Warriors game Pics and videos on our Instagram page. #closeseats
Golden State Warriors Ticket Information
How to Find Golden State Warriors Tickets on CloseSeats
Tickets to see the Golden State Warriors are available with the lowest prices located at the top of our ticket listings and the highest-priced tickets at the bottom of our ticket listings. You will find tickets to almost every section of every arena that the Golden State Warriors will play in this season.
All Golden State Warriors ticket sales are 100% guaranteed and will be in the section and row that you purchase.
How to Buy Golden State Warriors Tickets
Browse our Golden State Warriors schedule for the game that you would like to attend
Choose the tickets for the Golden State Warriors from our inventory
proceed to checkout
You will get an email on how to download your Golden State Warriors tickets or receive an estimated shipping date.
How Much do Golden State Warriors Tickets Cost?
At CloseSeats, Golden State Warriors ticket prices can be found for above and below the face value of the ticket. For games at the Chase Center in San Francisco, CA. the seat location will have a big impact on the cost of the tickets. The minimum price for a Golden State Warriors ticket on CloseSeats.com is $6.00. No tickets can be bought or sold for under $6.00
Do I Need to Print my Tickets?
No. The Golden State Warriors, along with all NBA teams, will only allow mobile ticket gate entry to their games.
Golden State Warriors Playoff Schedule and Tickets
Find and Buy NBA Playoff Tickets and view the NBA Playoff Schedule for the Golden State Warriors at CloseSeats. Browse our inventory and find tickets to every section and row for Warriors playoff tickets and NBA Finals tickets.
Looking for more things to do in San Francisco, CA? Discover upcoming Events and Concerts in San Francisco, CA
CloseSeats is your trusted guide to all upcoming events and concerts in California.
View more Seating Charts in the State of California