Miami Heat tickets. Buy tickets to see the Miami Heat play home games at FTX Arena in Miami Florida, and away game dates by day, week, and opponent. View the upcoming schedule and get great Miami Heat ticket deals at the best prices.
Upcoming Miami Heat Games | Buy Miami Heat Tickets
About the Miami Heat Basketball Team
The Miami Heat are a National Basketball Association (NBA) team that plays its home games at FTX Arena in Miami Florida. Currently, the Heat play in the Southeast division of the Eastern Conference of the NBA. Division Rivals include the Orlando Magic, Washington Wizards, Atlanta Hawks, and Charlotte Hornets.
Miami Heat Ticket Information
How to Find Miami Heat Tickets on CloseSeats
Miami Heat tickets are now on sale at CloseSeats.com with the lowest prices located at the top of our ticket listings and the highest-priced tickets at the bottom of our ticket listings. You will find Miami Heat tickets to every section of every arena that the Miami Heat will play in the upcoming season.
All Miami Heat ticket sales are 100% guaranteed and will be in the section and row that you purchase.
How to Buy Miami Heat Tickets
Browse our Miami Heat schedule for the game that you would like to attend
Choose the tickets for the Miami Heat game from our inventory
proceed to checkout
You will get an email on how to download your Miami Heat tickets.
Miami Heat Tickets - Frequently Asked Questions (FAQ)
How much are Miami Heat Tickets?
Miami Heat ticket prices start at $7.00 at CLoseSeats.com. The average ticket price for a Miami Heat game is $56.00 with a price range of $7.00 to $1500.00. Miami Heat ticket prices will vary, depending on many factors, including seat location and opponent.
Where do the Miami Heat play?
The Miami Heat play their home games at FTX Arena, located at 601 Biscayne Blvd Miami, FL 33132
What is the Miami Heat Schedule?
You can check the Miami Heat schedule above, or you can view the full schedule at Miami Heat Schedule
Where can I Buy Cheap Miami Heat Tickets?
You can buy cheap Miami Heat tickets right here at Close Seats. Ticket start at only $7.00 and it is not uncommon at all to find Miami Heat tickets under face value.
When do Miami Heat Tickets go on Sale?
Miami Heat tickets are on sale now and can be found in the ticket listings and schedule above
Going to a Miami Heat Basketball Game
After you have purchased your Miami Heat tickets and you are making your way to FTX Arena in Miami to see a Miami Heat Basketball game, there are some things that you should know to prepare yourself for your visit.
Arrive early: for Miami Heat Basketball games, FTX Arena opens its doors 60 minutes prior to game time. Get there early to find your seats, get concessions, and watch Heat pre-game Warm-ups.
Enjoy player introductions: Be sure to be there on time for player introductions. The State of Art Scoreboard at the FTX Arena has a very entertaining video production, while at the same time an awesome display of lasers and lights shoot out onto the floor.
Do not try to get up during a play: During a Miami Heat Basketball game, if you need to go to the restroom, or you are getting up for concessions, wait until play has stopped. Nothing irritates other Miami Heat fans more than having to get up during a play.
Visit the Miami Heat Team Stores: Visit the Official Miami Heat team stores in FTX Arena where you can find all the Heat Apparel and merchandise that you need.
Share your Miami Heat game experience: Share Pics and videos on our Instagram page. #closeseats
Seating Chart
FTX Arena Seating Chart - Home of the Miami Heat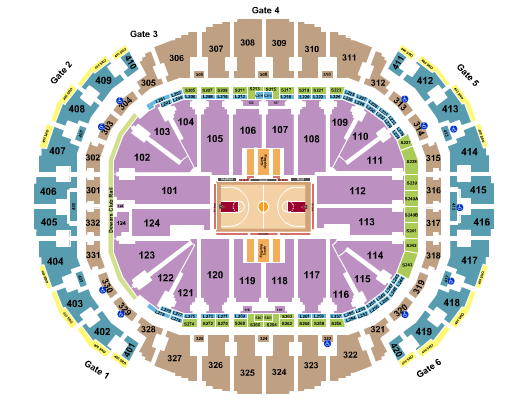 Looking for more things to do in Miami, FL? Discover upcoming events in Miami, FL