2022 Minnesota Wild Playoffs schedule and tickets. View home playoff games at Xcel Energy Center in Saint Paul Minnesota, and away playoff game dates by day, week, opponent, day games, night games. View the upcoming schedule and get great NHL Minnesota Wild playoff ticket deals.
What you will find on the Minnesota Wild playoffs schedule:
Minnesota Wild playoff home game dates
Minnesota Wild playoff away game dates
Minnesota Wild Playoffs Opponents
Upcoming Minnesota Wild NHL playoff games
Minnesota Wild day playoff games
Minnesota Wild night playoff games
Minnesota Wild weekday games
Minnesota Wild weekend games
Buy Minnesota Wild NHL playoff tickets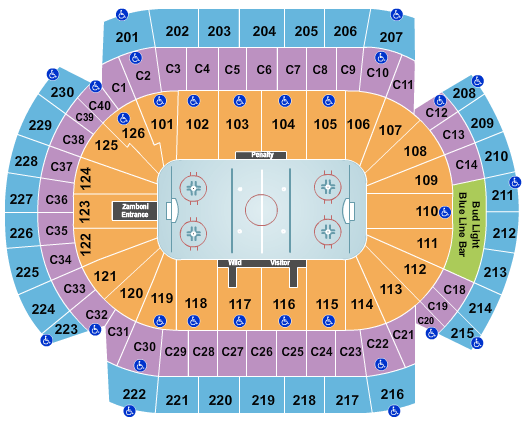 Xcel Energy Center Seating Chart - Home of the Minnesota Wild
Upcoming Playoff Games and Tickets
About the Minnesota Wild NHL Hockey Team
The Minnesota Wild are a National Hockey League team (NHL) that plays their home games at the Xcel Energy Center in Saint Paul Minnesota. For the 2021 NHL season, the Wild played in the Honda West division where they made the 2021 Stanley Cup playoffs. Other teams in the division that made the 2021 playoffs are the Colorado Avalanche, and the Vegas Golden Knights
Minnesota Wild Playoff Ticket Information:
How to Find Minnesota Wild Playoff Tickets on CloseSeats
Tickets to attend a Minnesota Wild playoff game are available for you to buy with the lowest prices located at the top of our ticket listings and the highest-priced tickets at the bottom of our ticket listings. You will find tickets in almost every section at Xcel Energy Center on CloseSeats and you may click on that section on our Xcel Energy Center interactive seating charts to see available seats and prices for that specific section.
All Minnesota Wild Playoff ticket sales are 100% guaranteed and will be in the section and row that you purchase.
How to Buy 2022 Minnesota Wild Playoff Tickets
Browse our Minnesota Wild NHL playoff schedule for the game that you would like to attend
Choose the tickets for the Minnesota Wild game and playoff opponent from our inventory
proceed to checkout
You will get an email on how to download your 2021 Minnesota Wild playoff tickets.
How Much do 2022 Minnesota Wild Playoff tickets cost?
At CloseSeats, Minnesota Wild Playoff ticket prices can be found for above and below the face value of the ticket. For games at the Xcel Energy Center, the seat location will have a big impact on the cost of the tickets. The Minimum price for a 2021 Minnesota Wild playoff ticket on CloseSeats.com is $6.00. No playoff tickets can be bought or sold for under $6.00
Do I Need to Print my Minnesota Wild Playoff Tickets?
No. The Minnesota Wild, along with all NHL teams, will only allow mobile ticket gate entry to their playoff games.
Minnesota Wild Ticket News
Minnesota Wild ready to safely welcome back fans
View more events in Saint Paul, MN
View more events in Minneapolis,MN